The Eliot at Troy is not just a home; we are a community like no other. Located in the cozy town of Troy, The Eliot sits on more than five acres of beautiful lawns and gardens. Its location provides the feeling of peaceful country living while being only minutes from the restaurants and shopping in downtown Troy.
We are dedicated to creating an environment where we consistently exceed the expectations of our residents, employees and regulators. Through exceptional care and services, unparalleled attention, a wide array of stimulating and engaging social activities, our residents live each day to the fullest. Personal freedom and independence is something that is promoted daily at The Eliot. There is nothing that our dedicated team will not do to accomplish our objective of 'Putting Our Residents First'.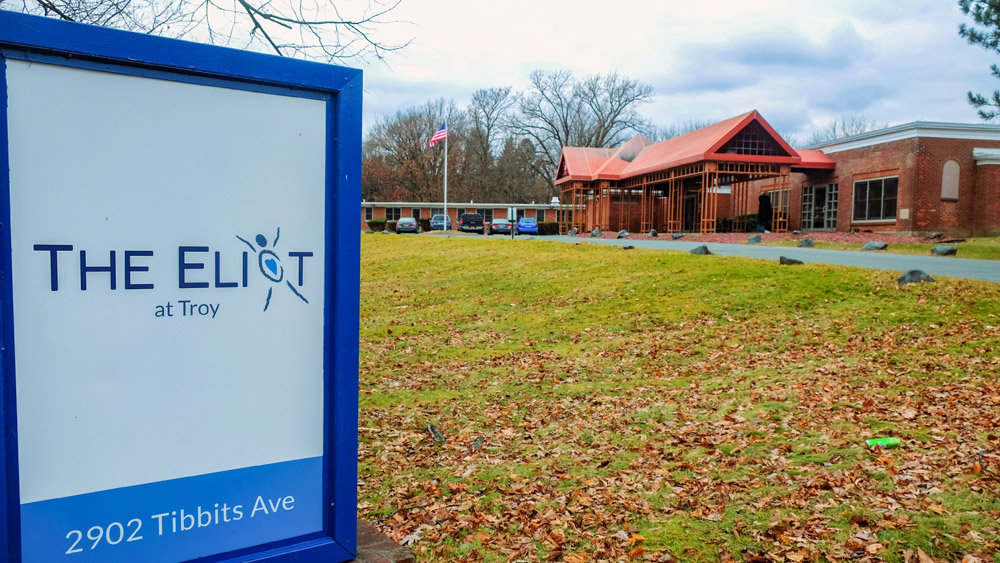 When living at home is no longer a safe and viable option, The Eliot at Troy offers a wonderful solution. We provide your loved ones with high-quality Residential and Personal Care services in a comfortable homelike setting.
The Eliot is licensed by the New York State Department of Health and includes:
Assistance with activities of daily living (i.e. bathing, dressing, safety assurance, supervision and 'round-the-clock, care if needed)
Healthcare services are provided by a Licensed Home Care Services Agency.
Wellness Center featuring an on-site internist, psychologist, podiatrist, physical therapists
Medication management by trained Med Techs
Three nutritious home-cooked meals shared in our spectacular dining room daily
Private Dining Room for a dynamic array of activities
A library, parlor, expansive country kitchens and more!
A lifestyle that promotes independence and choice
We work hard to make sure that each of our residents feels at home when they come to The Eliot at Troy. We offer private and semi-private rooms:
Choice of numerous floor plans
Cozy and beautiful furniture
Flat-screen televisions
Individually controlled heating and air conditioning
Emergency call systems in bedrooms and bathrooms
Weekly housekeeping, laundry and linen services
Utilities, including cable television
WiFi
New York's Affordable Assisted Living Program
While our community is priced competitively, we understand that senior care can be a costly investment. Seniors often struggle to afford the quality of assistance they need and deserve.
We offer New York's affordable Assisted-Living Program, which is certified to provide Medicaid-funded home-care services, to provide seniors with the right support, delaying or preventing the need for admission to a nursing home. Whether just moving in or a longtime resident, we help our residents afford quality assistance upon meeting state requirements.
Monica Welling
Business Office Manager
What is your role at The Eliot?
I am the office manager.

What do you like about your specific role or about The Eliot, as a whole?
I love working for The Eliot because of the residents. They all have their own story, and I enjoy listening and learning from them. I love helping them in every way possible.

What is a fun fact about you or something you enjoy in your free time?
In my spare time, I love to cook and bake with my kids.

Who is your favorite superhero or cartoon character, and why do you like them?
Miguel from the movie, "Coco". I like him because he has a big heart for everyone.
Kirsten Preece
Case Manager
How long have you been with us?
I have worked as a case manager for The Eliot at Troy since November 2009.

What is your educational background?
I graduated from Utah State University with a Bachelor's Degree in Social Work, with a minor in Family and Human Development.

What is your main focus here at The Eliot at Troy?
To continue to provide my residents with the resources needed to lead safe, successful and happy lives.

What is a fun fact about you or something you enjoy in your free time?
I love spending time with my children and family. One of my greatest blessings is being a mother to my three children. I also enjoy watching movies and reading. My hobbies include being outdoors, traveling, horseback riding and cooking.

What is your favorite movie or TV series?
One of my favorite movies is "The Greatest Showman". The music and messages in the film are inspiring!

What do you enjoy about your role or about The Eliot as a whole?
I truly enjoy that every day is different and challenging. I love finding solutions to problems and linking our residents with resources to better their lives.

What tip would you give prospective residents and their families?
To see the bright side of every day and never lose hope in your abilities.
Gail Welling
Medication Supervisor
What is your role, and why is it significant at The Eliot?
I am a medical supervisor, meaning I have lots of knowledge from nurses, doctors and pharmacists.
What do you like about your specific role or about the company, as a whole?
I love our residents and making them feel better.

What is a fun fact about you or something you enjoy in your free time?
I enjoy spending time with my family.

Who is your favorite superhero or cartoon character, and why do you like them?
Poppy from Trolls, thanks to my granddaughters. She exemplifies finding the good in every situation.
I recently visited this place to see a family friend. Kristina Taylor and the rest of the staff there is very welcoming and helpful! I highly recommend this place for your loved ones. Keep up the great work, you guys! Always an awesome and comfortable experience when I visit!
– Eboney T.
The Eliot is a great place for your love ones! Staff is caring and the community is great!
– Monica W.
The Eliot at Troy is amazing! They treat my mom with such respect and dignity. She loves the food and always tells me how generous and kind all the staff are. Whenever I visit, I get reminded of how lucky I am to have found such a wonderful place for my mom
– Sandra P.
Taylor welcomes all prospective residents with her infectious smile and countless hours of communications, providing each person with all of the information they and their loved ones could need. In doing so, her reassurances and continuous availability helps provide comfort in hopes that each person will quickly feel at home at The Eliot at Troy.
– Amber C.
Age really is just a number. Our residents enjoy a wide variety of social and private activities offered on a daily basis. From Yoga, Bingo and Manicures to Sunday Mass, Baking Clubs and Horse Racing, our programming is truly unique. See here for yourself!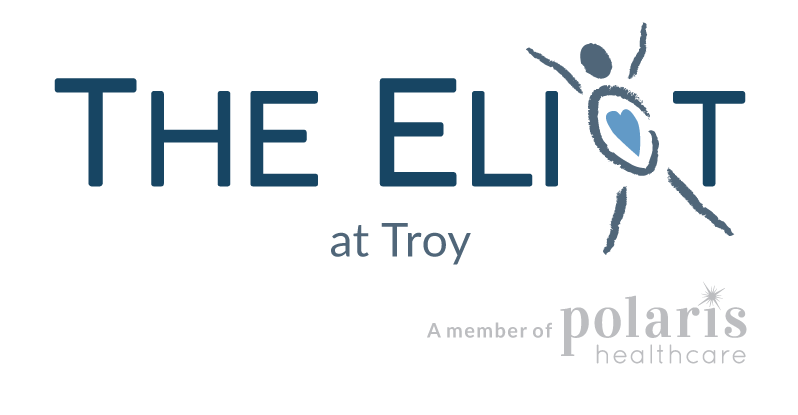 2902 Tibbits Ave
Troy, NY 12180
Tel: 518.273.2040